GoStrive
Client: GoStrive works to promote health and wellness in the community. They accomplish it through mobile and web applications that help agencies; health and wellness organizations build stronger relationships with their members and clients.
Challenge: USA park agencies were looking for ways to enhance the visitor experience and retain the visitor interest. To cater to this need, GoStrive developed a smart-phone application based on gamification using BLE iBeacon technology that allows users to engage with their physical environment. The parks can keep their users engaged in fun activities while using the mobile application.
Solution: In order to implement a gamified experience for the park visitors, SSI developed a smart-phone application named StriveOn. The mobile application has following pre-programmed activities
Scavenger Hunts
Context Aware Trails
The entire experience primarily relies on the proximity of a visitor to some particular point of interest in the park. To accurately detect the proximity of a visitor from some station in the park, we have deployed BLE Beacons based on Apple's iBeacon format. The system has been integrated with Contentful APIs to cater for the content management requirements. User is constantly kept aware of the current location and directions to stations within the park through Map APIs.The park visitors can now participate in interactive Scavenger Hunts, guiding them to find the next question and earn reward points on answering correctly. The application has also enabled context aware trails where the visitor is notified when a specific station is reached on a trail.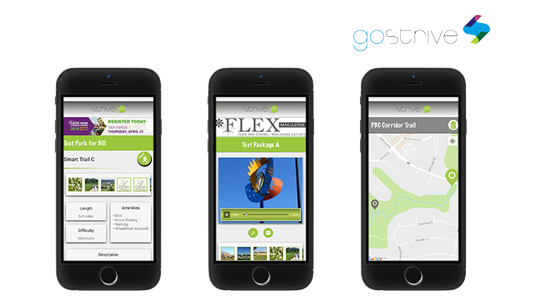 Result: With the help of StriveOn mobile app that SSI made, GoStrive now has a solution that can help park agencies in retaining visitor interest by keeping them context aware and engaged in interactive activities at the same time.
Tools and Technologies: