Top Three Applications Of Machine Learning In Finance
The potential of computer programs to learn self-reliantly and improve progressively unfolds new opportunities for all industries. The significance of machine learning technology in the financial industry has become seemingly more evident in recent times.
Let's look into applications of ML in finance; why financial companies should apply machine learning technology and the solutions they can implement with it.
Fraud Prevention
Clients' protection against fraudulent activities is the primary responsibility of every financial institution.  For every dollar lost to fraud, financial institutions pay $2.92 in recovery and associated cost. In order to prevent fraudulent, unauthorized or erroneous activities, banks need to abandon non-operational approaches to avoid obsolescence and employ sophisticated solutions to analyze high volumes of data. Fraud the Facts 2019 report uncovered the extent of crime challenges that the finance industry is committed to unraveling. Investment in advanced security systems and tech innovations has helped protect the finance industry from $2.09 billion of unauthorized fraud.
Modern technologies especially machine learning applications entail using algorithms to analyze patterns and trends and predictive analytics to block fraudulent transactions. Other strengths of machine-learning systems are faster data processing and less manual work. Feedzai, a fintech company, claims that a fine-tuned machine learning solution can identify up to 95% of all fraud and minimize the cost of manual reconciliations, which accounts now for 25% of fraud expenditures.
Process Automation
One of the most common applications of machine learning in finance is process automation which automates manual work and improves productivity. The promise of machine learning in enterprise ensures optimized costs, improved customer experiences, and scaled up services. Automation use cases of machine learning in finance include chatbots, call-center automation, paperwork automation and gamification of the employee, training and more.
JPMorgan Chase & Co. launched a Contract Intelligence (COiN) platform that leverages Natural Language Processing (NLP) to process legal documents and extract data in a small period of time. BNY Mellon integrated process automation into their banking ecosystem. This innovation is responsible for $300,000 in annual savings and has brought about a wide range of operational improvements. (Source: Appway) 
Loans and Insurance
Loans are risk-oriented by nature and it's rather challenging to correctly predict risk per case. Machine learning algorithms can analyze a huge set of data concerning potential debtor's general and financial background to produce an assessment of their financial condition and creditworthiness. Besides assessing the risks for each particular case, machine learning also has a more global application; detecting trends that could influence the entire domain. For example, a machine analysis might show whether a specific demographic is gradually becoming more likely to default.
This application of machine learning in financial institutions is mostly used by large companies at present but promises to become widespread in the future, possibly providing a replacement for a significant number of human jobs.
Real-World Use Cases of Machine Learning in Banking
The adoption of ML is bringing about an ever-growing list of machine learning use cases in finance. Bank of America and Wealthfront represent several financial companies using ML for their bottom-line growth.
Bank of America

 

has rolled out its virtual assistant, Erica, that will provide guidance and transaction assistance to customers 24/7 by using predictive analytics.
Wealthfront, an automated investment service, uses ML to serve its primarily-millennial customer base. Through the Weatherfront app, customers can link to financial accounts, build a financial plan, and receive financial advice.
Strategic Systems International's experience with fast growth fintech firms to bring data-driven products and solutions to market. Please review our success stories here. Contact us for any queries at sales@ssidecisions.com.
---
Accelerate your digital and product engineering capabilities through remote work!
As companies struggle to maintain business continuity and maintain their digital growth trajectory, we are fully prepared and experienced to partner.
Five Major Machine Learning Trends For 2019 [Infographic]
Machine Learning (ML) is extensively considered as a major factor responsible for driving digital transformation. According to a report titled Machine Learning in 2019: Tracing The Artificial Intelligence Growth Path, ML will reach cumulative investments of $58 billion by the end of 2021.
Here we have analyzed five trends that will shape the future of most prominent and fastest-growing technology 'Machine Learning' in the next few years. 
Machine learning as a service (MLaaS): There is a great likelihood of machine learning being offered as a cloud-based service given its increased incorporation in business applications in recent times. MLaaS providers offer tools including but not limited to data visualization, APIs, natural language processing, predictive analytics and deep learning. Its appeal lies in how it gives customers a jump-start with machine learning without the prerequisite of software installation or providing their own servers. Most top cloud-providers like Microsoft, Amazon and IBM offer machine learning tools and the provider's data centers manage the actual computation. MLaaS is usually offered to developers on a trial basis for assessment before having to commit long-term.
Read More: Are Smart Machines the Future of Manufacturing
Industry growth: ML is currently growing at a CAGR of 42% and is projected to be worth almost $9 billion by the end of 2022 and a whopping $39.98 billion by 2025. This doesn't come as a surprise given today's competitive business environment where machine learning has become increasingly important for the banking, financial services and insurance sector alone – be it risk assessment, approving loans or managing assets. The machine learning industry will also receive a substantial amount in investment that will reach $58 billion by the end of 2021.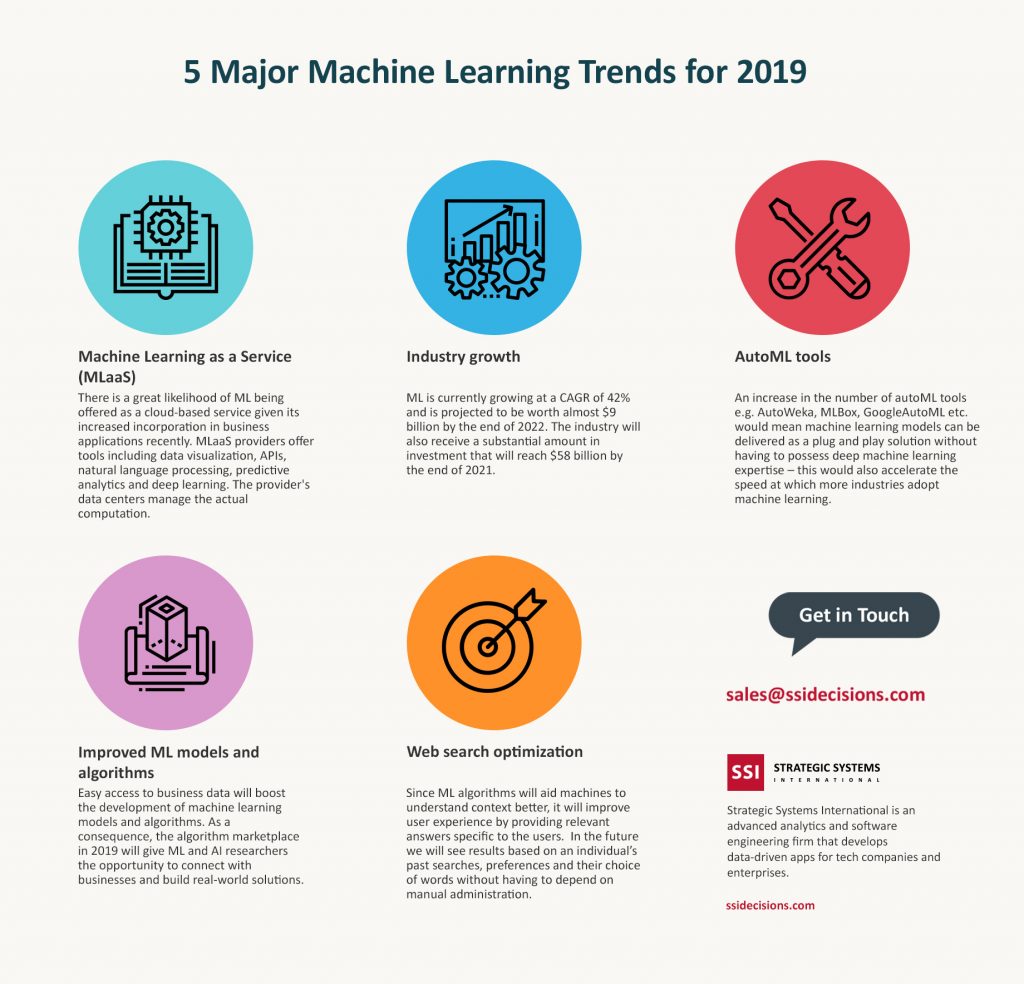 AutoML tools: The increase in number of autoML tools e.g. AutoWeka, MLBox, GoogleAutoML mean machine learning models can be delivered as a plug-and-play solution, accelerating the speed at which more industries adopt machine learning. This also allows data scientists to focus exclusively on their core competencies, relying majorly on autoML and automated deployment tools. Tech giants like Google, staying true to their claim of being an 'AI-first' company are current market leaders with the GoogleAutoML being the first and one of the finest autoML tools.
Read More: The Future Of Computing – Quantums, Qubits and More
Improved ML models and algorithms: The proliferation of business data and easy access to that data will act as a catalyst in boosting the development of machine learning models and algorithms. Given the availability of low cost data storage facilities and AI about to reach maturity shall further aid the process. As a consequence, the algorithm marketplace in 2019 will give ML and AI researchers the opportunity to connect with businesses and build real-world solutions.
Web search optimization: Since ML algorithms will assist machines to understand context better, it will improve user experience by providing relevant answers specific to the users. In the future we will see results based on an individual's past searches, preferences and their choice of words without having to depend on manual administration. Furthermore, Attivio's Chief Product Officer was quoted saying, "We'll also get proactive about alerting people on potential issues before they even happen and provide actionable recommendations to ensure a smooth operation and excellent search experience."
---
Strategic Systems International has a remarkable portfolio of delivering data-driven products and solutions to market and helping fast-growth firms achieve success through software development outsourcing. Please review our success stories here. Contact us for any queries at sales@ssidecisions.com. 
---
Accelerate your digital and product engineering capabilities through remote work!
As companies struggle to maintain business continuity and maintain their digital growth trajectory, we are fully prepared and experienced to partner.
Can Emerging Technologies Make Procurement More Agile?
Long, manual processes still dominate procurement today. Oftentimes, monotonous and effortful labor-intensive transactional activities increase the size of the procurement time window – resulting in an inefficient service. In order to reinvent procurement and adapt to the evolving business needs of today and tomorrow, many companies have now digitized procurement in an attempt to expedite these cumbersome processes. But is speed enough in today's uncertain business climate?
No – and this is why the following 3 technologies are being touted as the next big thing in procurement for increased efficiency and agility:
Machine Learning: Implementing machine learning technology could speed up procurement processes, assist procurement executives in pushing tasks forward, identifying errors and inconsistencies. This can be achieved by incorporating ML-powered virtual assistants including chat-bots or prompts within tasks. According to a research director at Gartner, "It's like Turbo Tax for procurement where it asks you a series of simple questions and helps predict how you're going to respond and gets you to the point of order faster." https://www.gartner.com/en Although machine learning has far bigger uses, it can play a huge role in this realm by simply removing human error from processes – less human error means faster operations which contributes to increased 'agility'.
Learn how our solution has helped a client transform their static procurement processes and monitor and manage core challenges such as contract lifecycle management, dynamic reports, contract induction processes, dynamic process configuration, etc.
Natural Language Processing: The procurement process involves numerous long-winded documents, agreements, and conditions; reviewing these documents quickly is crucial to get the goods moving. NLP-enabled solutions can help extract the required information from text-heavy files, decipher the meaning and provide actionable insights – saving procurement officials a lot of time. It can also take questions and provide additional data and insights (think of it as the Siri of procurement). NLP-enabled solutions can also identify invoice abnormalities and even fraud. Further, they could contribute to 10-15% savings eventually as it would have more data to compare against and enable procurement executives to create complex comparison reports easily. This would increase the efficiency of a procurement team without increasing the team size.
Big Data Analytics: The idea of big data analytics is to analyze large volumes of data to uncover hidden patterns, correlations and other insights  – this allows an organization to predict better and anticipate; be it the cost of raw material, potential natural disasters or shortages. This is bound to give a competitive advantage to firms by virtue of being prepared and also enable them to manage risk better. Since big data increases the facts, data (quantitative and qualitative) and contextual information available to a firm, it consequentially improves the decision-making process. It is also likely to decrease costs and increase value in procurement functions as the process gets more optimized as more data points are collected and analyzed with time.
In a nutshell, companies with a high performing, agile procurement process observe early growth and gain competitive advantage. All it takes is a technology makeover to be ahead of the game. Is your company also considering procurement agility? We are here to help. Get in touch to redefine procurement for your business.
---
Strategic Systems International (SSI) is an Advanced Analytics and Software Engineering firm that delivers data-driven projects to tech companies and enterprises around the world. Explore our success stories. Contact us to learn how we can develop a solution featuring cutting-edge technologies that can benefit your business.
---
Accelerate your digital and product engineering capabilities through remote work!
As companies struggle to maintain business continuity and maintain their digital growth trajectory, we are fully prepared and experienced to partner.